To the Glory of God
Our Scripture for next worship is Hebrews 13
The writer calls this a brief word of exhortation.
It took us four months. Four. Months.
I still feel like we barely skimmed the surface.
If this was him writing briefly, imagine how much more exhortation the writer thought his audience needed. Each time I came to this word, I was exhorted. Exhortation is more than teaching or encouragement. A sermon is an exhortation. A sermon urges us to take proper action and adopt proper attitudes. I am grateful that the Bible includes this book for a lesson on how to exhort, how to preach, how to explain or teach the Scripture while building in applications to how we should think, feel, and act.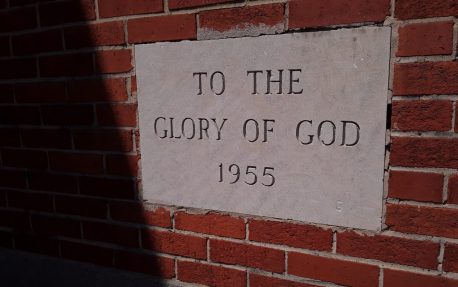 "Now may the God of peace who brought again from the dead our Lord Jesus, the great shepherd of the sheep, by the blood of the eternal covenant equip you with everything good that you may do his will, working in us that which is pleasing in his sight, through Jesus Christ, to whom be glory forever and ever. Amen."
-Hebrews 13:20-21
This book is a lesson for how to read, teach, and preach the Bible. The writer in includes multiple exhortations to remember, obey, submit to and pray for our leaders. This is especially poignant as we are praying for leadership decisions as a church. As he began the letter with a proclamation of the supreme authority and glory of the Lord Jesus, he closes his letter with a plea for us to honor Christ and a prayer for Christ to be glorified in us. Since I was a child in this church.
I have always been impressed by this monument stone placed in the corner of our church's worship hall. This is why we exist. To borrow from the catechism of our Presbyterian brothers and sisters, we are here to glorify God and enjoy him forever. That is the end to which this letter to the Hebrews was building and the end to which all of history is being driven. We live to glorify a God who created us and then became one of us. Jesus suffered, died, was buried, and rose again to make us fit to glorify and enjoy him forever.