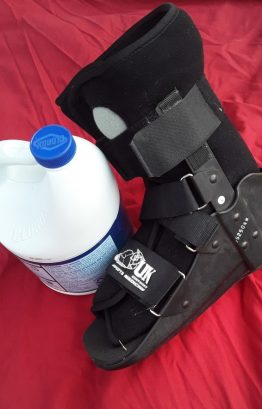 "Purge me with hyssop, and I shall be clean; wash me, and I shall be whiter than snow. Let me hear joy and gladness; let the bones that you have broken rejoice."

Psalm 51:7-8 (ESV)
Hebrews 10:26-39 (Psalm 51)
Of Bleach and Broken Bones
The smell of bleach tells you something has been recently cleansed. You and I might wrinkle our nose at the smell, but we know what it means. If you had never smelled bleach, then you would have no idea that it is used to cleanse things. I am not familiar with hyssop, but I imagine the smell of it had a similar association for David when he was writing Psalm 51.
If you have never broken a bone, then you don't know the deep throbbing ache that just doesn't stop. It gets worse whenever you try to use the bone that is broken or whenever someone or something presses upon it. You can tell that something isn't right, even if outward appearances don't show you what is wrong. I think David must have known about broken bones. As a warrior and a king, I doubt he was a stranger to that type of injury.
I think this is evidenced by the fact that he used broken bones to illustrate the sense of divine judgment the believer experiences when in rebellion against God. I have broken bones at least three times and perhaps a fourth. I have known the acute sense of being in rebellion toward God far too many times to count.
It is important to remember that David wrote this as someone who believed in God, was called by God, anointed by the prophet of God, kept by the promises of God, and still he committed grievous sins against God. As I began preparing for a sermon on the second section of Hebrews chapter 10, this Psalm came to my mind. It was a sermon from this Psalm that God used to call me back from a long period of rebellion. It remains one of my favorite chapters of Scripture.
Hebrews 10:26-31 serves as a dire warning, specifically to believers, against continuing in willful or deliberate sin against God's clear commandments.
Hebrews 10:32-39 reveals to us the strategy for escaping such temptation is to remember what God has already done in delivering us. He must be the source of our confidence to continue in love and obedience.
Psalm 51 and the life of David show us a picture of how God does not excuse the sin of his people. He is faithful to keep us in accordance to his promises, but real faith means we respond to his discipline by learning obedience from it and teaching others to do likewise.